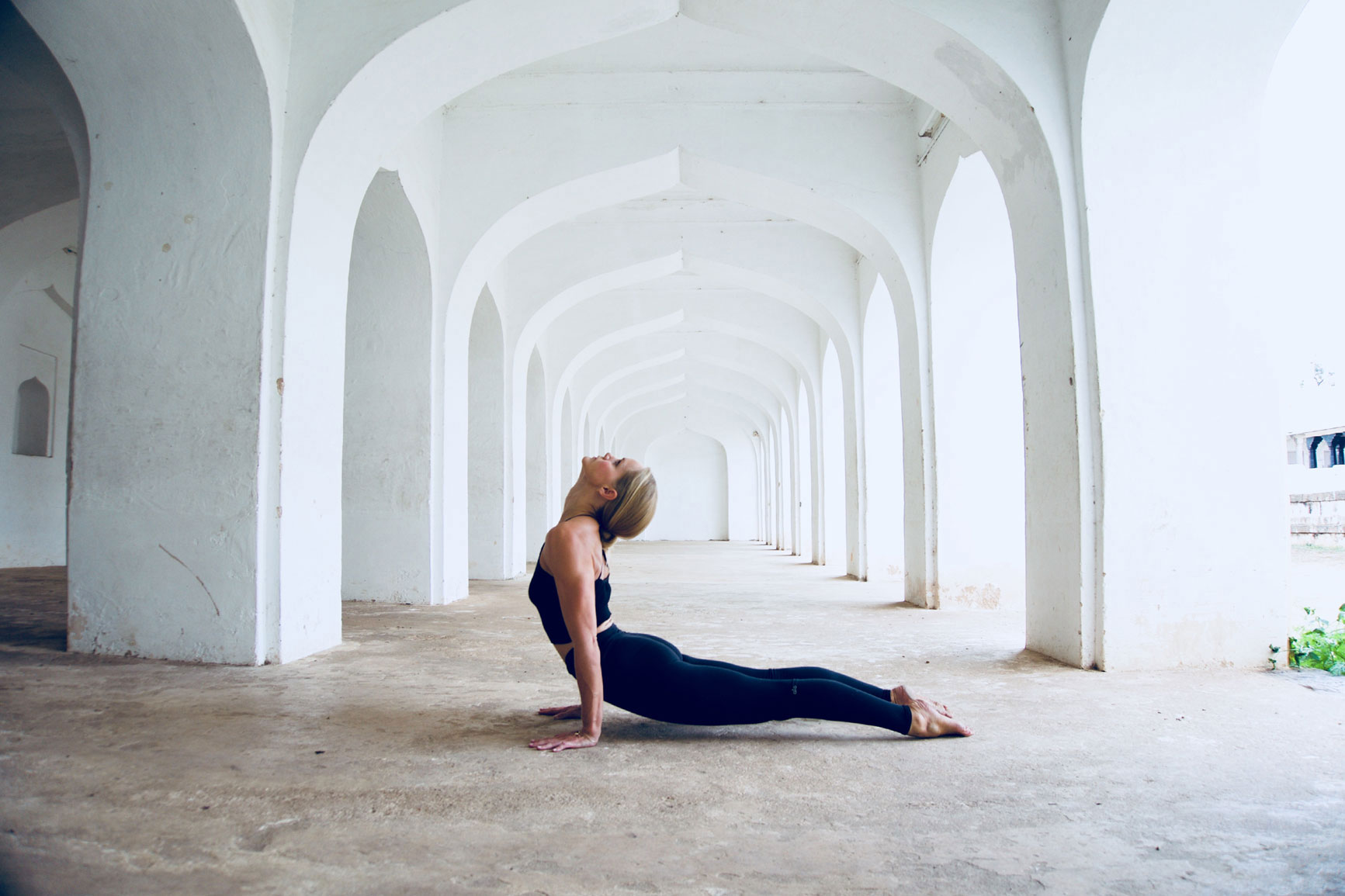 Type of classes
Mysore Style
"Mysore" is named after the city in South India where Mira Wøhlk learned and still studies this method from her main teacher Sharath Jois, who learned from his grandfather Sri K. Pattabhi Jois.
The Mysore practice is an individual practice in a group (setting), where you have the opportunity to deepen your own practice and follow your own breath among other practitioners in the authentic tradition and method of Ashtanga Yoga as it has been taught in India for centuries and is still taught today. It requires a strong and dedicated commitment to apply the necessary effort.
You build a relationship with a qualified teacher who are dedicating a good portion of their lives to the study and practice of the ancient tradition of Ashtanga Yoga as taught at KPJAYI in India. The teacher offers one on one instruction, guidance in alignment and breath work, hands on adjustments allowing for individualized attention and over time maybe more asanas (postures). This will allow the teacher to work closely with you as you settle into what will hopefully deepen your practice and become a long term daily practice.

☞All levels are welcome - but it's an advantage to have some practice experience with the sequence of Ashtanga Yoga before attending a Mysore class.

Drop-in students must have an existing Mysore practice.


Mysore Style Intro
This class is for those of you who are completely new to Ashtanga Yoga 'Mysore style'. You will be taught the Primary Sequence of Ashtanga Yoga from the very beginning, starting with Surya Namaskara A. Once its been integrated and memorized, you will continue to be guided posture by posture in a specified order. Consequently, the first step in establishing a Mysore style practice becomes to memorize the sequence.

This method of practice eventually becomes a sort of self practice, as you move through a sequence at your own pace, alongside other practitioners moving through their practice and always with the support and guidance of a teacher. The teacher offers one on one instruction and hands on adjustments.
Guided classes
All classes other than Mysore Style are considered 'guided'. Varying in level, here are the guided classes we offer:

Ashtanga Yoga 1
Designed for the complete yoga beginner. You learn the sun salutations and basic standing and seated postures. At a slow pace you will learn how to move your body in a safe and healthy way. Through the fundamentals of breath, bandhas and vinyasa movement we explore the basics of yoga together in a way that is accessible to everybody. Expect explanations, modifications and a free space to ask your questions.
☞This class is for those of you who want to learn Ashtanga Yoga from the bottom up!


Ashtanga Yoga 2
In the class we draw upon all you have learned in the Intro class and introduce some more postures. Focusing on detail and alignment in postures is further encouraged. To deepen your understanding of the yoga method we start introducing the opening and closing mantras.
☞This class is for those of you who want to deepen the understanding of the Ashtanga Yoga method


Mixed level: (Half) Primary
Guided (Half) Primary draws upon all you have learned in the Intro classes, guiding you up to Navasana's half way point in the Ashtanga Primary Sequence, in a more traditional yoga style. This class emphasizes classic Ashtanga Yoga's flow, technique and tradition. You will learn how to link postures into a flowing movement sequence and experience new potentials of strength and flexibility.
☞A medium level of physical aptitude is recommended!


Full Primary
Taught only by teachers qualified to pass on the integrity and pure method of this ancient, Indian practice.

Here you will begin to get under the skin of Pattabhi Jois' yoga recipe! This class is the full Ashtanga Yoga experience with Sanskrit counting. In a steady and dynamic flow asanas (postures) are linked into a choreographed sequence that opens new dimensions in your mind-body-breath connection. This full-bodied movement mediation emphasis the original Vinyasa method of Ashtanga Yoga.

☞ High level of athletic conditioning is recommended when we combine stamina, strength and flexibility. Be prepared to sweat!
Private and corporate classes
We will tailor the class to fit your level and needs, whether it be fundamental points of alignment, hands on adjustments, breath work or a specific condition such as pregnancy or recovery from for instance an injury or sickness. We also offer corporate classes if you wish to bring Yoga to your workspace for you and your colleagues. Please contact us for more information and price.
Pranayama
Learn the original ancient Pranayama sequence to awaken the body/mind connection: Rechaka & Puraka, PurakaRechaka, Nadi Shodana, Bhastrika, Surya & Chandra Bedhana and Sitali.

Extra classes - check schedule
Meditation
A variation of meditation techniques to calm and focus the mind.

Extra classes - check schedule
Workshops & events
We invite different international teachers from a wide spectrum of interests (yoga, anatomy, philosophy, meditation and pranayama) to teach workshops and intensives. Keep an eye on 'News' from the studio.